Download from YouTube in HQ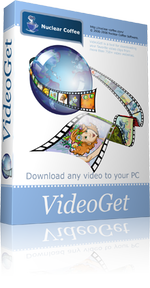 YouTube's general philosophy is to make sure that as many people as possible can access YouTube and that videos start quickly and play smoothly. That's the main reason why it offers videos with different quality.
YouTube mainly offers videos in:
YouTube regular Quality Video - 320p
YouTube High Quality - 480p
YouTube High Definition - 720p
YouTube Full High Definition - 1080p
But you know that the better quality video is usually skipping, stuttering and paused periodically. One of the best ways to avoid these problems and enjoy beautiful and creative videos in HQ or HD is downloading the HQ video onto your computer.
Download
Order now
Try VideoGet - one of the most convenient and easy-to-use tools to download from YouTube in HQ. VideoGet currently supports 600+ video sharing websites, including YouTube, MySpace, Google Video, Yahoo Video, MetaCafe, etc. This video downloader and converter does also support 18+ websites. With this smart tool you can convert all your videos into any file format. VideoGet allows you to convert YouTube video to 3GP, AVI, MPEG1, MPEG2, WMV, FLV, MP4, MP3 and more than 20 other file formats.
To allow VideoGet download from YouTube in HQ press the Options button in program's main window (1) and select the option "Download YouTube video in high quality if available" (2) in the new window and click OK: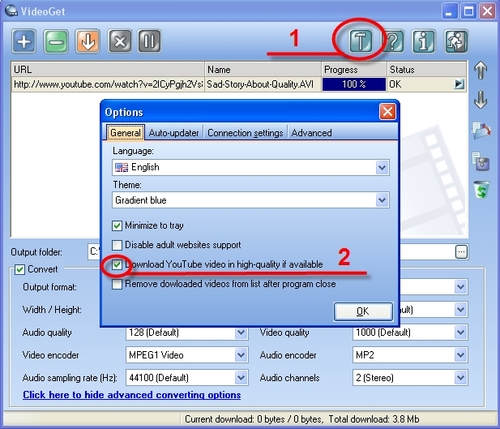 Now you can start enjoying your downloaded YouTube HD videos without them skipping and stuttering. To download video simply copy-&-paste URLs for the videos you want to get and click Download. In addition, with this lightweight video downloader you can also download YouTube video directly from your browser in just one click using VideoGet quick download button. VideoGet will check if videos are available in HQ or HD and download a better quality video then.