My Value Collection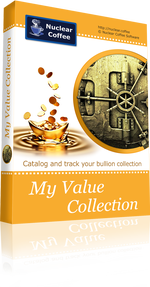 My Value Collection is simple yet powerful cataloging software for bullion coins and bars for precious metals investors, collectors, stackers and numismatists. My Value Collection has internal database of more than 20,000 popular and rare precious metal coins and bars, including gold, silver, platinum, palladium, rhodium and even copper.

My Value Collection software is a perfect solution to hold track of your precious metals investments. It helps you to keep track of your coin purchases, creates detailed report and statistics of ounces you hold, including up-to-date value of your precious metals in more than 170 fiat currencies, return on your investment and much more.

We at Nuclear Coffee believe that precious metals, especially gold and silver, are best ways to store value, withstanding more than 5,000 years of history, detached from modern fiat financial system, great investment and probably best insurance against future uncertainties and we believe that everybody should own some gold. We hope that our software will help you organizing "your value collection".
Download
Order now
My Value Collection features
Internal database. You can add new items to your collection by searching thought internal database of more than 20,000 popular coins and bars. Simply type in search dialog something like "Maple Leaf 1 oz 2019 gold coin" or "Kookaburra 10 oz silver" and all information about coin will be fetched, including all specifications, obverse and reverse pictures, etc.
Add manually. If for some reason your coin or bar cannot be found in our database, you can fill in all information manually.
Supports variety of precious metal products. Gold, Silver, Platinum, Paladium, Rhodium and Copper.
Detailed statistics. Including up-to-date value of each item and entire collection in more than 170 fiat currencies, including USD, EUR, GBP, CAD, AUD, CHF, JPY, etc. As well as detailed report grouped by metal, mint, country, year or anything else.
Create a wish list. This coin organizer allows you to create a list of items you would like to purchase.
Search coins and bars by a keyword. It is really easy to find items in your collection - simply enter a keyword and select fields to search for.
Sort items in your collection. Sort coins or bars alphabetically, chronologically, or by any other field.
Filter and group items in My Value Collection. Filter and group coins or bars alphabetically, chronologically, or by any other field.
Print the list or export it to a variety of formats. My Value Collection allows you to either print a report or save it as HTML, Excel, PDF, Text file or XML file.
Customize My Value Collection easily. You can change application appearance, screen layout, select collection view, adjust toolbars or add and remove fields.
Friendly and intuitive user interface. This coins catalog software user friendly and intuitive interface allows you to do all operations easily and effectively.
Privacy & Security. Your database is stored localy on your computer, meaning nobody except you have access to your data.
Supported languages: English.
System requirements: Windows NT / 2000 / XP / Vista / Windows 7 / 8 / 8.1 / 10 / 11.
Product Screenshots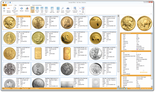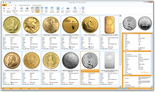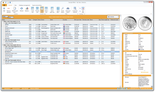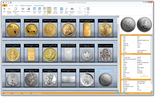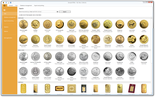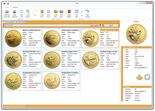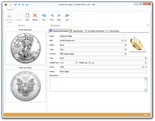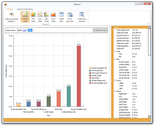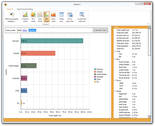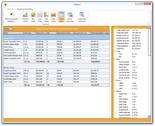 Keywords

Gold / Silver Bullion Coins Catalog Software
Gold / Silver Bullion Coins Inventory Software
Gold / Silver Bullion Coins Organizer Software
Gold / Silver Bullion Coins Database Software