Rip DVD and CD in one program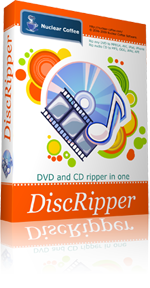 DiscRipper is software program which simply does two jobs: ripping audio CD disc and DVD video disc.
DVD ripper
DiscRipper can rip DVD disc into MPEG4, AVI, WMV, XVid, and many more. Also, DiscRipper can convert video for portable devices such as iPod, iPhone, PSP, Creative Zen, and 3GP / 3G2 for mobile phones.

You can select preferred DVD titles to rip, select audio language and subtitles if available on DVD disc. Furthermore, you configure output format as you wish by changing video / audio bitrate, frame rate, frame size, and other options.

CD ripper
Besides ripping DVD video, with this little but powerful program you can backup your audio CD into MP3 format, rip CD into APE files, OGG or WAV audio file formats.

DiscRipper will automatically fetch all CD tracks information from CDDB internet database; grab album covers and even lyrics for all songs. All this information will be stored in mp3 tags (both Id3v1 and Id3v2 so there is no need to do that manually anymore.

DiscRipper features
DVD ripper
Rip any DVD video to AVI, MPEG1, MPEG2, MPEG4, DIVX, XVID, H.264, WMV, 3GP, 3G2
Rip DVD video to portable devices such as iPod, iPhone, PSP, Creative Zen
Also you can rip DVD from folder, not only from discs
Choose audio stream, language, and subtitle language if available
Rip DVD in 1 or 2 passes
Customize output format (audio / video bitrate, frame size, frame rate, audio sampling rate, etc)
Automatically download DVD meta-information and DVD disc cover images for internet
"Test rip" for output quality testing, without ripping whole DVD title, it will rip only 10 seconds of video
Select DVD ripper process priority
Select DVD ripper CPU count to use for encoding (in case you have more than one CPU)
It supports any known DVDROM device
Allows to pause / resume ripping process
CD ripper
Rip audio CD to MP3, OGG, WAV, APE format
It supports any known CDROM and DVDROM device
Automatically download CDDB information
Automatically download album covers and other meta-information
Automatically download lyrics for every song
Store metadata into MP3 Id3V1 and Id3V2 tags (including album cover and lyrics)
Select desired bitrate of output format
Allows to pause / resume ripping process
System requirements
Works on Windows NT / 2000 / XP / Vista / Windows 7 / 8 / 8.1 / 10
Words with all known CDROM and DVDROM devices
Works with all types of Internet connection
Supported languages: Dansk, Nederlands, English, Français, Deutsch, Italiano, 日本語, Norsk, Русский, Español, Svenska, Türkçe, Українська.
Product Screenshots